Albuquerque Bernalillo County Water Utility Authority Operations Center
Albuquerque, New Mexico
Located at the San Juan-Chama Surface Water Treatment Plant campus, the planned operations facility embodies a new sustainable, iconic image derived from the mesa and river land forms of the Rio Grande Valley. The Water Utility Authority is consolidating operations and desires a facility that expresses their independence to the public. The long-range plan focuses on growth and improved efficiency for providing water and sewer services to the metro area.
Operational goals include prioritized customer service, employee respect and communication, and sustainability. The facilities feature a public customer service center, support and training classrooms for field crews, maintenance shops, a warehouse, a light vehicle maintenance shop, a field dispatch center, a call center, and associated management offices.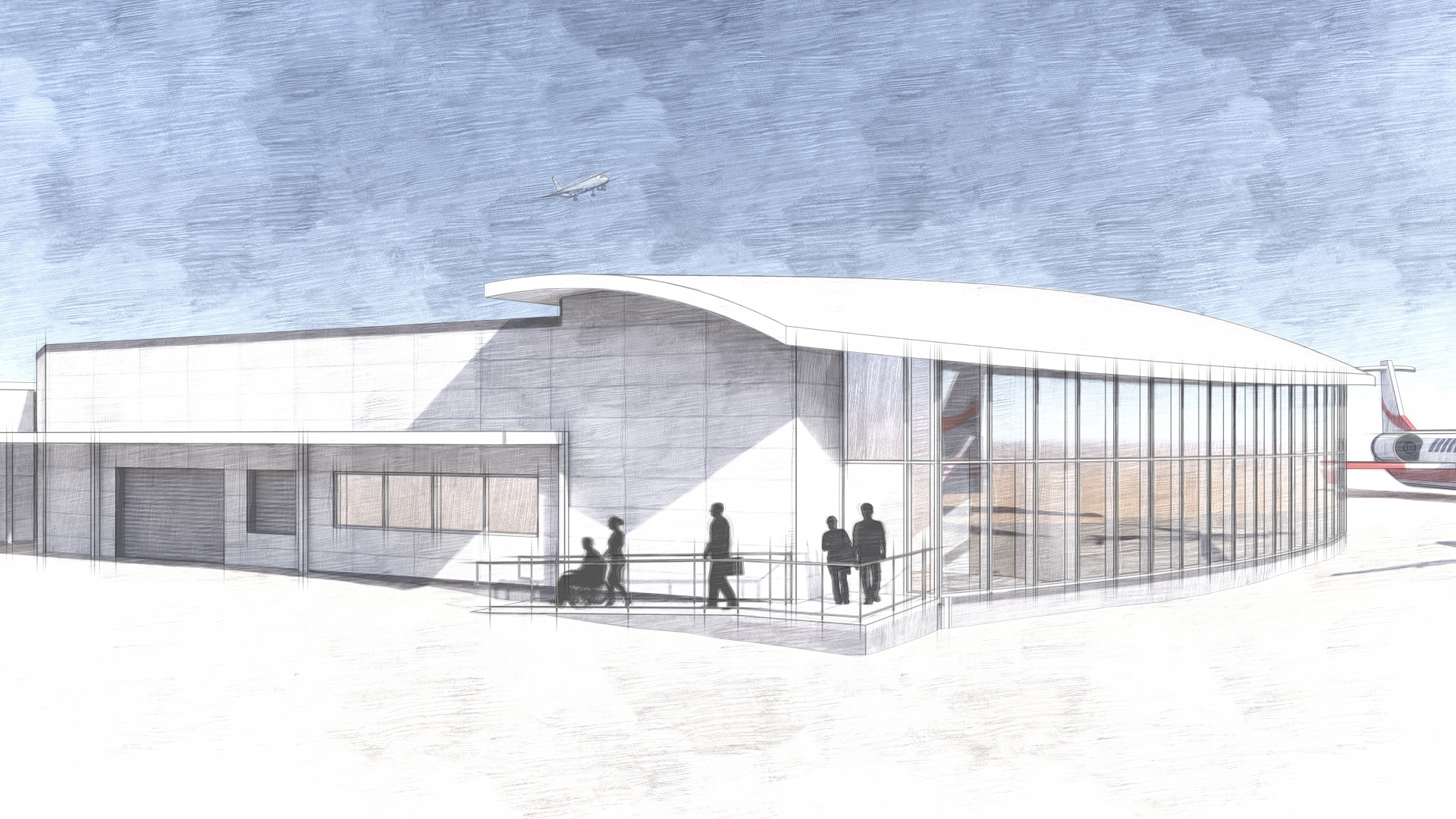 Lea County Municipal Airport – Terminal Expansion
Hobbs, New Mexico
Constructed in 2006, the 4890 square foot Johnny Cope Terminal was designed with one gate for intrastate carriers. Regional interstate carrier service was added in 2011 but continued to utilize the one gate. The growth of the Lea County Regional airport required expansion to meet TSA standards and provide greater amenities to passengers. The design adds a new gate and new safety and security measures in compliance with TSA requirements as well as upgrades to the passenger experience and staff suites. This 7,900 sf terminal expansion uses a language of natural light and exposed structural elements to complement the existing terminal and capture views of the apron and runways.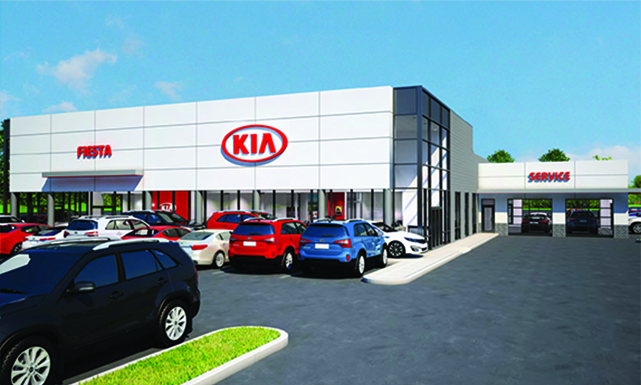 Fiesta Kia
Albuquerque, New Mexico
A new Kia Dealership on Lomas Blvd NE. Fiesta Kia is moving next door and millenniums ahead. This new facility has a shop that the crew cannot wait to get in to and work. Large indoor showroom and customer comfort are embraced in this new design. The building is sleek and modern like the new Stinger cars they sell.  This 21,000 square foot facility will be open in February 2019.  
HART Construction
is the general contractor. This building is upping the ante for dealerships on Lomas Blvd.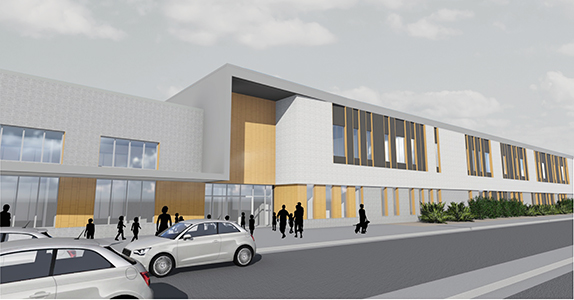 Del Norte Replacement Elementary School
Roswell, New Mexico
The Roswell Independent School District is very serious about the education of its students, but recognize learning should be fun. This new replacement school fuses formal structure with playful, child-friendly features. Repeating tall vertical windows speak to authority and order while colorful tiles and shade fins energize the brick walls.
The compact footprint preserves the existing gym, park, parking lots, bus lanes, and play courts. The south facing orientation allows for efficient solar exposure, maximizing daylight and energy performance. Vibrant flexible spaces are key features in the design; efficiently clustered blocks of classrooms support team teaching and learning while shared and varied break-out spaces further collaboration and exploration.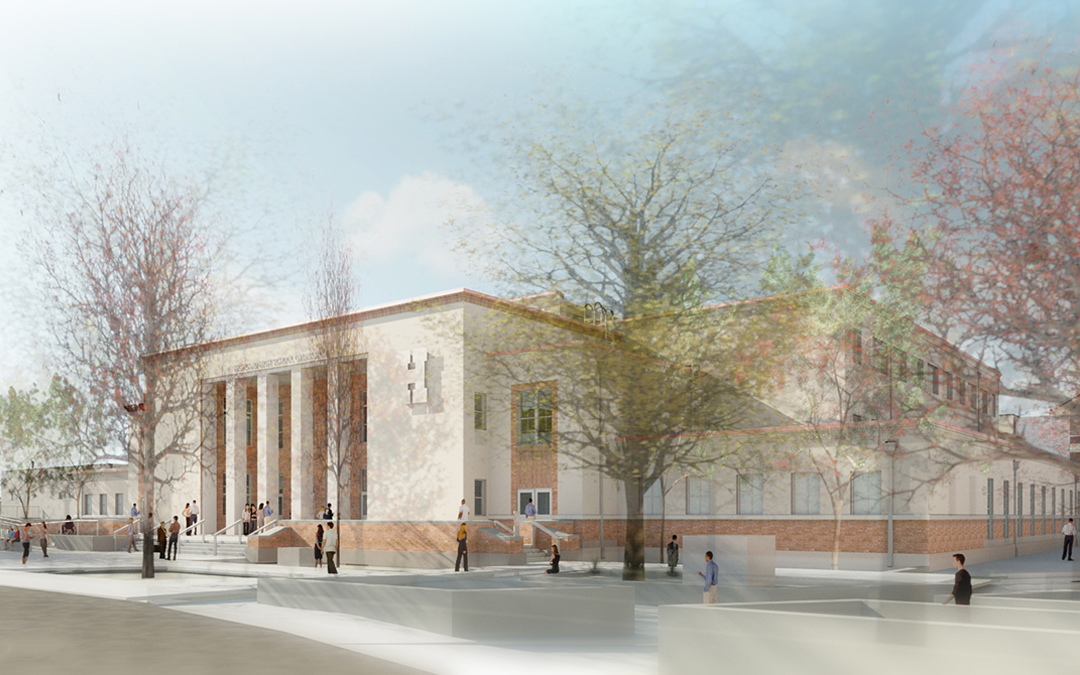 APS Highland High School Title IX Gymnasium Upgrade
Albuquerque, New Mexico
In collaboration with Highland High School, APS Facilities, Design, and Construction, and APS Capital Master Plan, SMPC created a master plan for the redevelopment of the HHS campus identifying necessary renovations, additions, project phasing, and construction sequencing. With the intent to consolidate the campus and update the facilities, SMPC developed the design of this multi-phased project and it was approved by the APS Board in November of 2015. The HHS Title IX Gymnasium Upgrade is Phase One A of this redevelopment plan.
Originally built in 1949, the HHS gymnasium building has had numerous small renovations and additions over time. APS has now made it a priority to update and enhance the aging gymnasium to create a uniformly efficient and effective facility for the HHS community. SMPC has developed renovation strategies that will maintain the iconic stature of the building while providing Title IX and ADA compliance and standardization. Creating a modernized and adequate gym facility that optimizes function and utilization will invigorate the Hornet spirit and support the pride of HHS physical education and athletic programs.
The Title IX Gymnasium Upgrade is currently under construction and is expected to be complete ahead of the Spring 2018 semester. The general contractor is Enterprise Builders
Albuquerque International Sunport Terminal Improvements
Albuquerque, New Mexico
The Albuquerque International Sunport, serving as the primary gateway to Albuquerque and New Mexico, reflects the region's unique cultures and style.  Constructed in 1965 and greatly expanded in 1985, the terminal design has served the community well during the past 35-years of continual use but has also been subject to the ravages of time. Public spaces, including ticketing, baggage, departures and arrivals areas, are being remodeled, refreshed, and updated to accommodate industry changes to these processes, to enrich the passenger experience, and to enhance the terminal's uniquely New Mexico architectural vernacular.
The interior design includes new ticketing casework, upgrades to baggage handling equipment, a new welcome desk, passenger gathering spaces and a meditation room, furniture/furnishings, a video wall and other passenger amenities, new energy efficient HVAC distribution and LED lighting, new ceiling finishes in these areas, and new wayfinding signage throughout the terminal.
On Level 2, Departure curb side check-in has been rearranged to streamline the process while minimizing pedestrian congestion at the terminal entrances, and to make the entrances more visible and inviting.  A canopy is being added to the existing trellis, with integral drainage and lighting, to provide cover for the sidewalk and check-in queuing areas.
To improve arriving passenger's movement and experience on Level 1 from the baggage claim areas to private and commercial pick-up areas, the design incorporates colored, stepped ceiling projections at the exit vestibules similar to the existing entrance porticos, widened passenger pick-up sidewalks with enhanced lighting, an exposed and well illuminated elevated roadway deck, and defined crosswalks to the commercial pick-up area with a covered terminus at each, and new landscaping.  The commercial pick-up area includes a covered trellis like the departures level, windscreens, seating and a new sign wall welcoming visitor to the City.
Flintco is General Contractor.