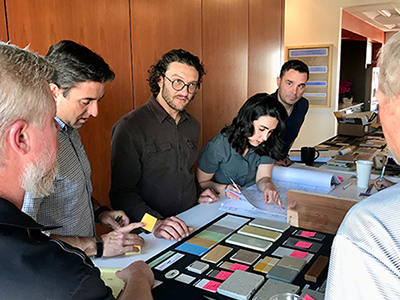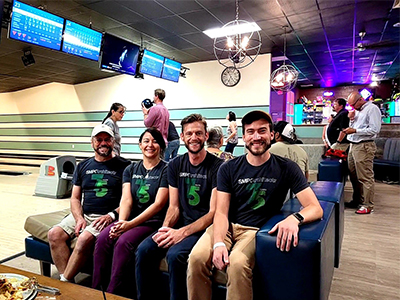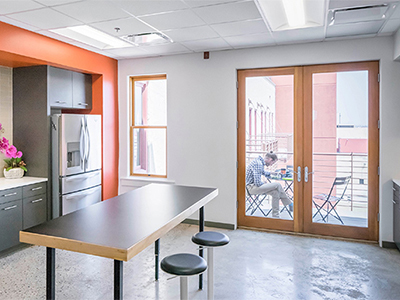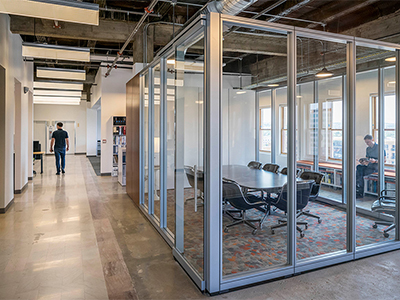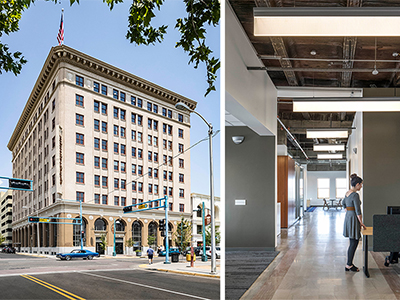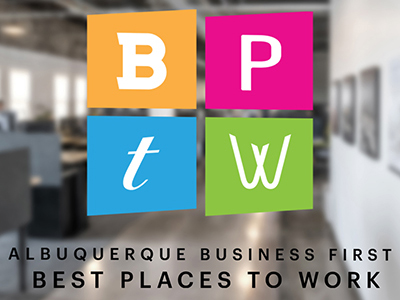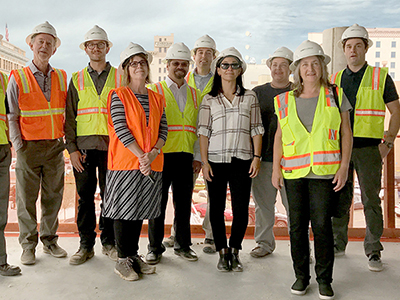 Working at SMPC Architects

SMPC is located the heart of downtown Albuquerque, NM on the 8th floor of the historic First National Bank building. Our office features sweeping city and mountain views, an open office environment, rooftop deck access, and abundant nearby food and entertainment options. We are currently seeking talented design professionals to join our team.
Create your own path
Capitalize on advancement opportunities, including professional development programs, continuing education programs, and professional association memberships. Whether you're interested in managing a part of the business, specializing in project management, or developing your technical skills, we put people first and help provide the resources and subject matter experts to get you on the right path.
Advance your skills with us
Interested in developing your leadership, project management, technical and communications skills? SMPC supports that. We offer education stipends to foster your growth as a design professional through continuing education programs, related conferences and training programs. The firm will assist with testing and annual licensure fees. We encourage you to be involved with creative pursuits and active in the community. Is work/life balance your priority? It's our priority too.
---
SMPC is an Equal Opportunity Employer and participant in the U.S. Federal E-Verify program. Women, minorities, individuals with disabilities and veterans are encouraged to apply. SMPC has been honored for six consecutive years with the New Mexico Family Friendly Business Award, we've been honored as one of  Albuquerque Business First Magazines' Best Places to Work for five consecutive years. SMPC offers reimbursement for certain professional licenses and associated renewals and exam fees.
For consideration please email your resume to info@smpcarchitects.com with the subject line "Re: Careers at SMPC"

We look forward to hearing about you and what you are looking for.
Architect / Project Manager
SMPC is hiring a Project Manager
The ideal candidate will have over three years' experience in architectural project management, design coordination, and technical production. This is a full-time position. Current architectural licensure in New Mexico is preferred.
Working with us, you will:
• Provide leadership and management necessary for all facets of project delivery.
• Be responsible for achieving overall project goals.
• Manage a range of small, medium and large size architectural projects.
• Ensure high quality documentation.
• Lead and supervise the project team, delegate assignments.
• Lead and coordinate communication efforts with client, consultants and within project team.
• Ensure designs are fully developed and complete for the entire project.
• Oversee design schedule to ensure that design decisions and documentation are complete at critical milestones.
• Manage or review invoices for clients and consultants.
• Support marketing and business development efforts
An ideal candidate has:
• A minimum of 3 years of project management experience at architectural design firm(s).
• Bachelor degree in Architecture or equivalent.
• Project experience in a range of project types, complexity and scale.
• Proficiency with Revit and possess a high level of technical proficiency in the production of drawings.
• Thorough knowledge of entire project delivery process. Must be comfortable managing and engaging clients, the process, and the project team.
• Excellent written and verbal skills, articulate, and a strong presenter.
• Demonstrated effectiveness in working in a multi-disciplinary team setting, collaborating, and client satisfaction.
For consideration please email your resume to info@smpcarchitects.com with the subject line "Re: Careers at SMPC"
Intern Architect
SMPC is hiring an Intern Architect/Drafter
We are interested in motivated individuals with strong design, technical production, and project management skills. Responsibilities include design and support to production of electronic drawings and models under direct supervision in a collaborative team environment; and construction administration efforts as assigned. Must be proficient in Revit. This position will report to the Project Manager. We prefer this to be a full-time position. NM registration is not required.
Working with us, you will:
Create electronic drawings and models under the direct supervision of others in a team environment.
Support design, production, and construction administration efforts.
Assist the team in the development of design concepts and solutions.
Perform redline changes and revisions.
Administrative assignments including scanning, copying, printing, and transmitting documents.
Organize and maintain project files.
Accountable for completeness, accuracy, and timeliness of work assigned.
Participate in SMPC management committees as requested or desired.
Marketing the firm when opportunities arise.
An ideal candidate has:
Ability to learn specialized software.
Proficiency with Revit.
Demonstrate a high level of attention to detail.
Exhibit flexibility, responsibility, initiative and leadership.
Exhibit effective time management skills.
Ability to work well under pressure.
Highly organized with the ability to prioritize and manage multiple deadlines.
Ability to work in a team environment.
Basic understanding of design and construction drawing production.
Basic understanding of building systems, detailing, and technology.
Basic understanding of applicable codes, regulations and standards.
Basic knowledge of sustainable design principles.
Proficient in MS Office software – Word, Excel, Outlook
For consideration please email your resume to info@smpcarchitects.com with the subject line "Re: Careers at SMPC"